STEWART COURT APARTMENTS
For Current Residents
Stewart Court Apartments
1831 8th Ave
Seattle, WA 98101
​
Neighborhood: Denny Triangle
Units: 65
Pets: Dogs and Cats
Parking: Onsite (waitlist may apply)
Do you qualify? Resident Qualifications
Contact Information
Resident Manager: Ashley
Email: stewart_court@bellwetherhousing.org
Phone: 206-957-6600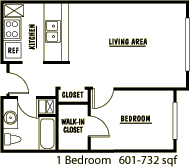 Floor Plans
Floor plans are representative; actual unit may vary.
​
Building Description
You would never know this building was so affordably priced with its gorgeous lobby, wood trim and modern kitchen features. This downtown location also has three levels of affordable indoor parking and a small courtyard to escape from the bustling downtown surrounding the property.
​
Amenities
Dog and cat friendly, intercom-controlled entry, on site laundry, elevator access, some dishwashers in units, indoor parking, attentive management and maintenance personnel.
​
Special Information
Serving households earning below 50% and 60% of the area median income. Section 8 vouchers welcome.
​
Full-Time Students
Due to Federal funding requirements for this property, applicant households must have an adult member who is not a full-time student unless one of the following student prohibition exceptions is met. You are:
married and filing a joint federal tax return with spouse

a single parent with a minor child and neither are dependents of a third party

receiving benefits under Title IV of the Social Security Act (e.g., TANF)

At least one student participates in a program receiving assistance under the Workforce Innovation and Opportunity Act or under other similar, federal, state or local laws. (Attach documentation of participation.)

previously under the care of a state foster care system
​
Note: Bellwether does not accept Portable Screening Reports.
Housing Development History
Stewart Court Apartments
1831 8th Ave
Seattle, WA 98101
​
Location: Seattle, Denny Triangle
Date Completed: 2002
​
Unit Type: 65 studios and one-bedrooms
​
Communities Served: Households earning below 50 to 60% of area median income
​
Total Cost: $13,200,000
​
Funding Sources:
Tax Exempt Loan
4% Tax Credit Equity
Taxable Loan
HRG Equity and Deferred Fees
City of Seattle Housing Bonus
1700 Seventh L.P.
​
Project Description:
New construction facilitated by property parceling and the creative amalgamation of transferable development rights, housing bonus credits and a generous contribution by 1700 Seventh L.P., the Clise-Nordstrom development partnership. Through this partnership, HRG developed 65 studios and one bedrooms over commercial office and retail space.