OREGON APARTMENTS
For Current Residents
Oregon Apartments
2305 1st Ave
Seattle, WA 98121
​
Neighborhood: Belltown
Units: 83
Pets: Dogs and Cats
Parking: Onsite (waitlist may apply)
Do you qualify? Resident Qualifications
​
Contact Information
Resident Manager: Fernando Sanchez
Email: oregon@bellwetherhousing.org
Phone: 206-441-6335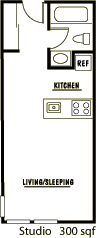 Floor Plans
Floor plans are representative; actual unit may vary.
​
Building Description
The Oregon Apartments, a charming four story brick building, is conveniently located on the corner of First Avenue and Bell Street, on the major Metro bus line. The units sparkle and offer lots of light. Many of the studios have views of Puget Sound, while some others have lofts. The Oregon Apartments is within walking distance to Pike Place Market, Seattle Center, the waterfront, excellent restaurants and great shopping.
​
Amenities
Dog and cat friendly, intercom-controlled access, on-site laundry facilities, and elevator access.
​
Special Information
Serving households earning below 30%, 40% and 80% of area median income.
​
Full-Time Students
Full-Time Student Households are eligible to apply.
​
Note: Bellwether does not accept Portable Screening Reports.
Housing Development History
Oregon Apartments
2305 1st Ave
Seattle, WA 98121
​
Location: Seattle, Belltown
Date Completed: 1990
​
Unit Type: 83 studio apartments
​
Communities Served: Low-income households earning below 30%, 40% and 80% area median income
​
Total Cost: $4,050,000
​
Funding Sources:
Bank Loan
9% Tax Credit Equity
Convention Center Replacement Housing
​
Project Description:
Complete renovation of the former Oregon Hotel and new construction on adjacent parcel producing 83 studio units with 3,286 square feet of ground-floor retail space.